By Peter Frandsen
Translated by Karl Schnelle, May 2014
This article has been translated from the original article narrated by Peter Frandsen which appears at teknosamleren.dk and which was written in January 2013.  It was translated by Karl Schnelle for Model Auto Review (with a little help from Google Translator).
Berico Background: a Meeting is Arranged
Berico was a Swedish toy wholesaler and the Swedish importer of, among other items, Danish Tekno toy cars and trucks. Berico was a significant factor in the success of Tekno; Sweden was an important market, as evidenced by the many Swedish-based Tekno models.
I got in touch with the owner of Berico when I bought some sales material on Tradera, the Swedish version of eBay. The seller, Anders Christensson, explained to me that the material came from Berico, where he had worked as a salesperson, as did his father, Kjell Christensson.  Kjell worked at Berico from 1956 to 1977; Anders worked for them from 1983 to 1994.
From Anders, I found out that the owner of Berico, Ivan Andersson, was still living and lived in Malmö. We managed via Ivan's son, Ulf Andersson, who had also been employed at the company to arrange a meeting with all four of them.
We would meet on 15 November 2009 at Ivan Andersson's home. His son Ulf had explained to me that his father was very weak, and I could at most expect him to be able to withstand a half hour of conversation. I stayed for 3 ½ hours, and he was still in high spirits. The subject of Tekno can be motivational for many people!  Ulf told me later that he had not seen his father in such a good mood for many years.
I met with Anders and Kjell in Malmö and we drove together to Ivan's address. It was in an apartment complex in a residential area in Malmö with many tall buildings. In Denmark, we would call it public housing, a bit like Brøndby Strand or Bellahoj.
---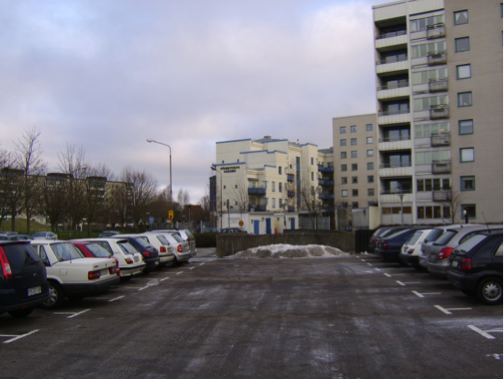 Ivan Andersson's Apartment
---
Ivan lived in an 11-floor building, and as I came into the entrance hallway I was amazed. There was a small area within the hall with some upholstered furniture. The elevator was neat and tidy with wallpaper on the walls and carpet on the floor.  I had been in stairwells and elevators in Denmark in similar buildings where there was concrete everywhere, old bicycles, and graffiti.  Denmark and Sweden are so close, yet so far away.
We did not have to meet in his apartment, instead we met in the communal area on the 12th floor, where there was glass everywhere, nice furniture and stunning views of Malmö – unthinkable in Denmark that the best space would be used for communal activities.
Then all five of us had a fantastic afternoon, where it was very difficult to keep Ivan and Kjell on track. They were constantly in deep conversation. Kjell had worked as a salesman at Berico starting in the 1950s and they had not seen each other since the company closed.   I brought a picture book about Tekno, Teknobog, and the Tekno Traffic game (small suitcase with Tekno cars to help school children learn the rules of the road).  Both were enthusiastically discussed.
---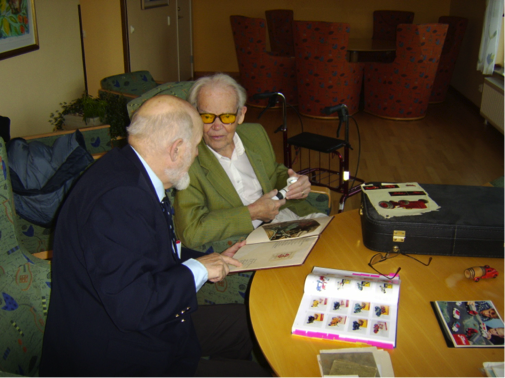 Ivan Andersson in green jacket and Kjell Christensson in blue.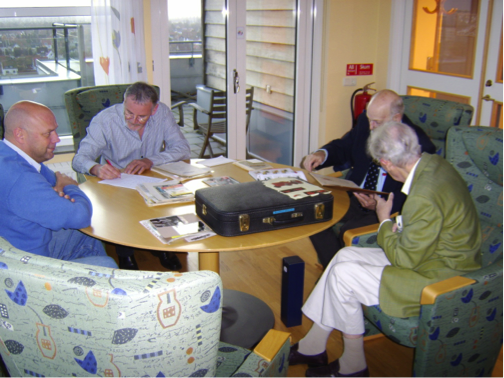 Anders Christensson in the blue jacket and Ulf Andersson writing.
---
Here is the story I pieced together during the interview and by studying the material they had in the apartment.
The Founding of Berico
Ivan Andersson founded the company AB Arsani in 1953 with a Dane named Poul Jensen. The company was based in a street called Gråbrödersgatan in Malmö. Later AB Berico was founded because it was appropriate to have one company for production and another for sales. They were involved with toys right from the start. Jensen was a toolmaker, who did most of the manufacturing of plastic toys in the basement of the building. Ivan, who was better with words, took care of sales and dealing with customers. In the beginning most of the toys were produced by Arsani themselves, but some were imported, such as a crash helmet from Moto Salto, which caused the company to lose 2,822 SEK (Swedish Kronor) in 1953. It was not a successful start. They also had a company called Arbe, but how the structure of the companies fitted together is not known.
---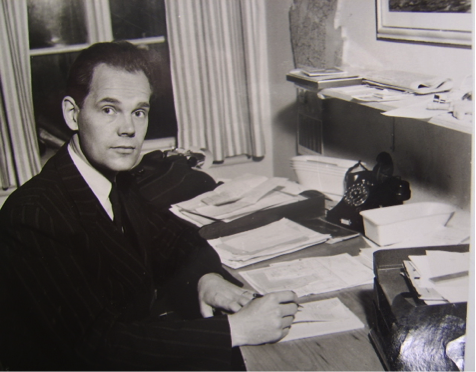 Ivan Andersson at Arsani, 1955.
Poul Jensen, at Arsani, 1955.
---
Shortly after being established, the company moved to Vattenverksvägen 1, Malmo.
In 1954 Berico started selling cycling accessories, which was not a great success but at least it made a profit of 73 SEK.
In 1956, Kjell Christensson was employed as a salesman, where he remained until the company closed in 1993.
Until 1957, there was not much growth in the company. The firm dealt with various toys, diving goggles, bicycle equipment, etc, but at the beginning of 1957 Andersson contacted Kai Reisler and begin to sell their products: plastic toy cowboys and indians, and soldiers.  Reisler was a Danish manufacturer of plastic figures.  The business went well because Reisler figures were in demand in Sweden. In fact it was Reisler who introduced Tekno to Berico. Poul Fjeldgaard, the Tekno Sales Manager, contacted Berico because Tekno was looking for a new wholesaler in Sweden.
---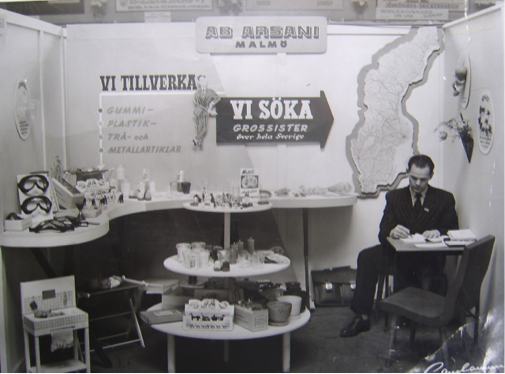 Andersson at a trade show with a variety of products. Note the Reisler figures.
---
Agreement with Tekno and Growth
Tekno had been previously represented in Sweden by Erland Falk, Malmo, who in 1950 had founded the company Svenska Tech AB. In 1952, they changed their name to Leksaksfabrikken, Tekno Aktiebolag. This company, as their name suggests, sold Tekno products in Sweden until 1957, when Tekno and Erland Falk parted ways after legal issues concerning taxes.  Berico was very interested in cooperating with Tekno, which was a major player in the toy market, and thus they took over their Swedish business from Falk. This deal did not include the wooden toys that Tekno produced in collaboration with Brio in Osby, Sweden.
Neither the two salesmen nor Ivan Andersson remember anything about any wooden toys at all, but Kjell believes that he had a wooden Klods Hans from the Hans Christian Andersen story and two other wooden items as prototype models, but he never sold any. The same was true for the Tekno metal construction sets; Berico had them in their range but they did not sell well. The dealers preferred Meccano sets.
While Berico got Tekno and Reisler, they also got Damtrolden (Danish plastic trolls), produced by Dansk Vakuum, and Hansa who made Danish wooden toys.
Ivan Andersson describes the relationship with the Tekno Sales Manager, Poul Fjeldgaard, as fantastic. They had an incredibly good collaboration from the outset, until Fjeldgaard left Tekno in 1966.
The agreement between Tekno, Reisler, and Berico/Arsani was signed on 7 August 1957 by Ivan Andersson, Poul Jensen, Kai Reisler, and Andreas Siegumfeldt (Tekno's owner). The agreement, which is only three pages long, contains all the usual legal terminology, but there is an interesting covenant in it between Tekno and Reisler. None of one firm's products may disadvantage the other.  In the case of Reisler, a clause specifies that Arsani is allowed to produce Reisler figures, but Arsani cannot 'overcharge' in relation to Berico.
I had to read it a couple of times because Arsani and Berico have the same owner, but it is about Reisler dealing with Berico and not with Arsani, which could cause problems if Andersson and Jensen chose to overcharge for the Reisler products they made under licence, causing Berico's earnings to fall.  This would affect Reisler's profits negatively. Thus Kai Reisler did a good job drawing up this contract.
The contract also contains a reference to details of Berico's business practices, which seems a little unusual, but Andersson was probably forced to accept this deal by Tekno and/or Reisler.  Tekno would provide support for sales and advertising. It is so loosely worded that exactly what Tekno supply or what Berico had to pay was not stated. The reality was that Tekno, and especially Poul Fjeldgaard, took this very seriously. In fact, it is probably why they could settle for only a three page contract. They trusted each other, and a gentleman's agreement was sufficient.
Andersson explained to me that all promotional material (catalogues, etc) was developed by Tekno with Swedish text. All materials were also printed in Denmark. Berico and Tekno agreed on a 50/50 split most of the time. Berico was very pleased with this part of the deal with Tekno. Berico were also allowed to put their own logo on products and in advertising in Svensk Leksaksrevy, the Swedish toy dealers' association magazine.
It was also Poul Fjeldgaard who contacted Swedish companies to arrange for Tekno to model their products and place their names on the toys as well, as they had done with other manufacturers. One of the biggest was Åkerman who paid a large part of the cost of their excavator model, approximately 40,000 SEK.  Åkerman was also willing to pay for the tools for the production of their new hydraulic model in 1969 and in addition 1 SEK per model sold! A great deal that did not materialise.
The contract excluded Volvo models. Tekno could freely deal with the Volvo factories directly. Andersson also discovered that Tekno cars were supplied directly to some firms in Sweden, such as Scania and Saab, and Tekno Jeeps to Svensk Redningstjenst (Swedish Rescue Service).  Berico was never involved. Tekno was such a big supplier that Andersson chose to turn a blind eye.
In the period from 1 August to 31 December 1957 Berico had a revenue of 124,103 SEK, which assured the company's success.  In 1958 came a big increase in the sale of Tekno cars, when revenue increased to 483,001 SEK.
With the collaboration of Tekno, it was much easier for Andersson to negotiate deals with other toy manufacturers. In 1960 they added Lindberg plastic kits, and plastic figures from Timpo Toys. In 1963 came BILOfix toys from Denmark and total revenue increased to 2 million SEK.  Reisler gave permission to Berico to negotiate with Timpo Toys, as their products could have been regarded as competing with Reisler, which was forbidden under the contract between Tekno and Reisler. Andersson at one point contacted Dinky Toys, but took negotiations no further for the same reason.
It was now possible for Berico to strengthen their equity by putting money aside and settling debts accrued in the lean years of 1953 to 1957. Besides the toys manufactured by Arsani themselves, they managed to patent a lemon squeezer, which was then sold to the United States. They also sold mudguards, which were popular products at the time.
From the beginning of the contract Arsani produced a scale model Taarup forage harvester for Tekno. It was made like a plastic model kit and glued together at the factory. The harvester was nicely made but easily broken, so Tekno dropped it, and Arsani continued production of it without the Tekno logo.
In 1964 the company moved into its own premises on Scheelegatan, Malmö. In 1965, Berico also became distributors for Sani-Toys (figures), Bestbox (1:87 model cars, because Tekno did not make that scale), and Solido, which was imported by Tekno. Revenue in 1965 was 2 million SEK. In 1966, the shares were split up so that Andersson got Berico and Jensen got Arsani.
Strained Relationship with Tekno
In 1966, Poul Fjeldgaard left Tekno. He had been a good partner to Berico; communication and service from Copenhagen became much more difficult after he left. Fjeldgaard had been very responsive in supplying the cars Berico needed quickly. That ceased in 1966. Andersson remembers that before Christmas the next year he drove to Tekno in Denmark in his own car and demanded the goods he had ordered. After a long discussion, he obtained the goods, which could then be distributed to the stores. Andersson said that he never met or even talked directly to Andreas Siegumfeldt, Tekno's owner, which seems curious.
---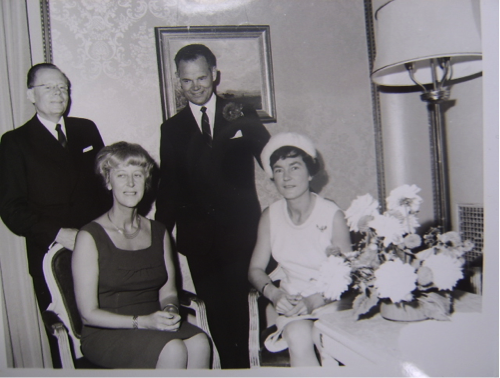 3 September 1967 – two months after A. Siegumfeldt died.
---
Andersson does not remember the event at which the photo above was taken. Standing on the right is Andersson and seated on the right is Esther Siegumfeldt, Andreas Siegumfeldt's daughter. I do not know the gentleman on the left, but guess that he is the Tekno sales manager. I have seen him on other photos from Tekno.
In 1967 Heljan kits were added to the range, and in 1968 the Televinken doll, which would be produced by Arsani using the original moulds. The doll would become a huge success.
The Traffic Game
After Fjeldgaard left Tekno he had an idea for a traffic game, suggested because Sweden was switching to driving on the right side of the road in 1967.
Fjeldgaard had previously had disagreements with Andreas Siegumfeldt and his daughter Esther, so he knew that he could not buy model cars direct from Tekno. But he could buy them from Berico!  It was agreed that Fjeldgaard would have the suitcase, packing materials, instructions and game plans made. The other contents of the suitcase would be supplied by Andersson. He ordered cars from Tekno, figures from Corgi, and tractors from Matchbox. That was possible at the time because it was a large order. The plastic cyclists were made by Arsani from the original Reisler moulds.  Andersson believes that 5,000 or more sets were made.
---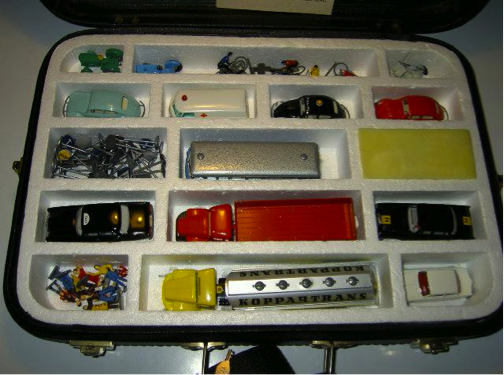 Berico Traffic Game, 1967
---
He believes, however, that Fjeldgaard is mistaken when he claims that the whole thing was outsourced. Andersson remembers that the Andersson and Fjeldgaard families gathered in Malmö to pack the suitcases, and that many sets were made over a long period of time. It would have been very difficult for Tekno to deliver so many cars in such a short time.
Andersson was responsible for the switch to Norstedts publishing house in Malmö for marketing the game; they already specialised in printed material on transport and traffic conditions. Norstedts also had offices in Gothenburg and Stockholm.  The game was a huge success and the curious thing is that the Berico name is nowhere to be seen on it. Now, years later, Andersson has no explanation why.
Tekno Toys and Berico – Decline in the relationship
The relationship with Tekno did not go well after Fjeldgaard left. There were major problems getting deliveries on time, and in being supplied the correct products. The quality level dropped considerably and there were also problems with the modified version of the Åkerman excavator. Tekno had removed the screw on the lower arm that raised and lowered the bucket. Now the children themselves had to perform this by hand which meant that many toys were broken. Berico received a high level of returns, something they had not seen before. There were also problems with doors and hinges breaking on the Volvo F88 lorry and the Volvo 144 (and later 164) cars.
---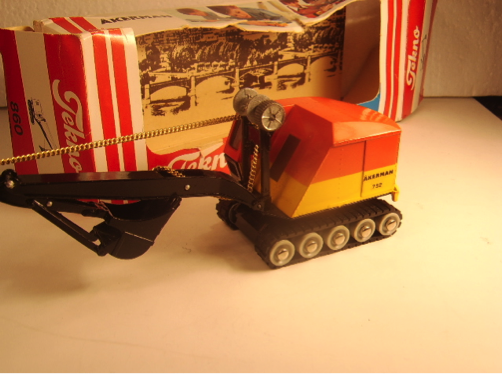 Tekno Åkerman excavator
---
Crisis meetings were held with Tekno in Copenhagen with the new sales manager, O K Nielsen, and N Mørkegaard. They agreed that Berico could make a swivel stand which differed from the standard display stand produced by Tekno.
---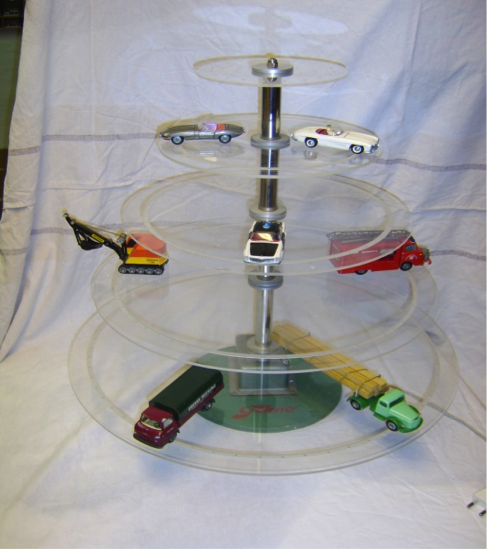 Berico's Swivel Stand
---
Berico was also unhappy with the box for the Oldsmobile Toronado, because it was different from the boxes of other models in the range and did not have the Tekno name showing clearly. This was later changed to the standard Tekno box.
---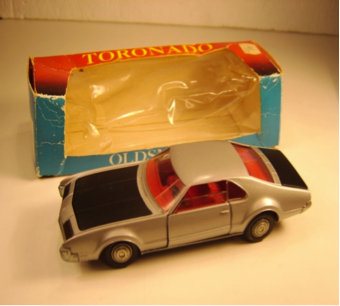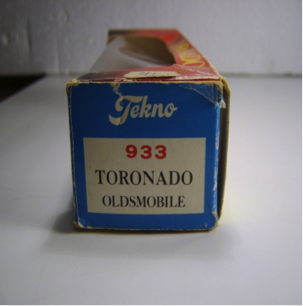 Original Toronado Box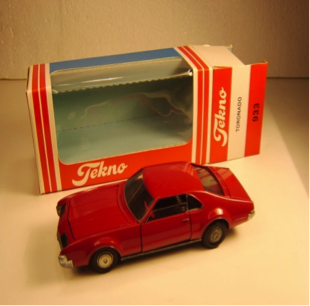 Updated Toronado Box
---
Actually Tekno was printed on the end flap of the original box, but it is true that the box did not look like any other Tekno box.
Another problem was that Berico had not received a number of Mercedes-Benz buses for promotional purposes which Tekno had promised.
---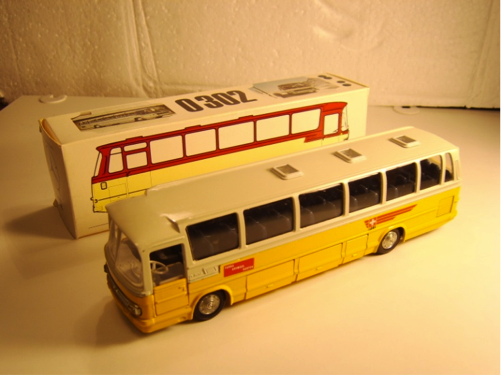 Tekno Mercedes Bus
---
At that time, there was a discussion about who should pay for an advertisment in Kalle Anker (Swedish Donald Duck children's magazine). It cost 7,735 SEK, of which Volvo paid 1,500. The remainder was paid equally between Berico and Tekno.
Berico discovered that SAS had changed the text on their Caravelle airliner, and he wanted this livery changed on the model. This was carried out by Tekno. The text was changed from Scandinavian to Scandinavian Airlines System.
Berico ordered 3,000 Koppartrans fuel trucks and 3,000 Scania SJ buses, but they were delayed or never received. Berico chased down the Tekno sales manager to find out when they could expect to get the models, but his reply is not known.  Both the Koppartrans and SJ buses are available on the secondary market now, so at least some were delivered by Tekno to Berico.
Tekno showed a prototype of the Scania bus with battery-powered headlights, tail-lights, and interior lights in a gift box with traffic signs and passengers. Berico was very interested in this item, but it was never produced. The prototype, however, is known to exist somewhere in Denmark.
---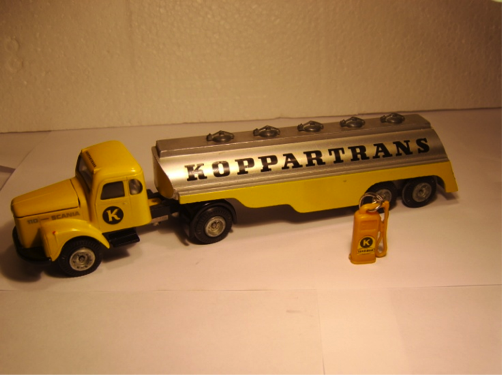 Scania Koppartrans Tanker with Petrol Pump key ring
---
It was Berico, not Tekno, who put the little key ring in the box.
There was a desire that all Tekno cars be delivered in window boxes, which Berico estimated would increase sales by 50%.  In addition Berico wanted more sales material sent to them.
Another meeting was held on 1 October 1969 in Copenhagen; Esther Siegumfeldt, who had taken over the running of Tekno from her father, as well as O K Nielsen and N Mørkegaard attended.  Tekno had continued to fail to deliver goods that were promised to Berico, to a value of 322,000 SEK.  The new Tekno Volkswagen Beetle Herbie and NSU Ro80 models were also outstanding, which Berico estimated cost them two million SEK, including shipping.
---
Tekno Volvo 166, NSU, and Volvo 144 Taxi
---
Supply of the NSU, Volvo 164, and Volvo 144 Taxa (Swedish taxi) was discussed. The VW Herbie models were needed before the movie Cassen i Bottom (The Love Bug) premiered in Malmö on 17 October. Berico wanted the delivery of the models before the premiere, so that they could create an advertising campaign for the car. Tekno were asked to supply flyers with Danish and Swedish text before 17 October.  It was noted that there would be a Herbie advertisement in Kalle Anker magazine on 11 November 1969.
Tekno presented Berico with some sample gift packs containing several cars. Berico could let vendors display them in their stores, but Andersson thought they were too expensive.
---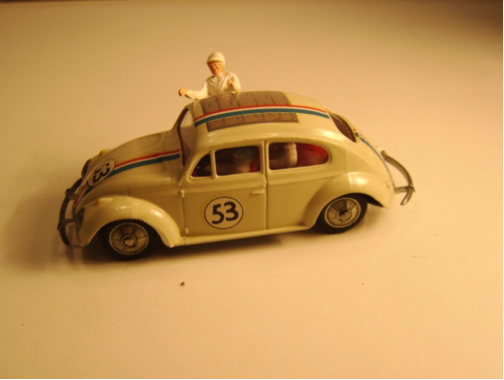 Herbie, the Love Bug
---
Berico wanted to continue to sell accessories to add to the Tekno trucks such as beer crates, containers and milk churns, because these items had sold well. However, Tekno had no more suitable boxes, but Berico was pleased with the plastic bags with just the text Tekno parts. (If they were ever delivered and sold that way, it is not known.)
---
Tekno accessories – tyres, beer cases, and a box of four containers
---
After the meeting, Andersson sent a letter to Tekno on 29 October 1969, in which Andersson said Berico wanted the Volvo 144 in mustard, which was the original colour. A white or yellow taxi was not suitable. (To everyone's surprise, the red is not mentioned).
Andersson wanted to know when Saab 99 would be finished, because he wanted to issue catalogues. He also thought that selling two cars in one gift set would be too expensive for customers. Berico also negotiated with Scania and Disney about a truck to haul Herbie but without any success.
Tekno replied to this letter on 31 October 1969 stating that the Saab 99 was coming in January 1970 and that Tekno would lower the price of the gift sets with the 425/452 Volvo truck and trailer, 835/815 Volvo 144 and Sprite Musketeer caravan, and  860/861 Volvo flatbed truck and Åkerman excavator. (I have never seen a box containing a Volvo 144 and a caravan. It was probably never made).
The sales list shows that Berico, despite these problems, managed to sell 273,625 Tekno vehicles by 11 December 1969, with a turnover of 1,938,000 SEK. Of those sales, the Volvo 144 made up 53,033 units. 19 models out of the 62 models that Berico sold accounted for 80% of sales. Tekno models provided about 67% of Berico's total revenue.
---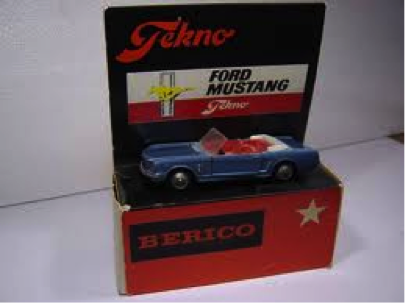 Berico advertising for the Mustang
---
Some of the issues, Andersson notes, were probably caused by Fjeldgaard travelling around Sweden and negotiating with various Swedish companies himself. Normally it was Fjeldgaard who contacted Swedish companies like Cloetta, Fyttes, Koppartrans, and Åkermann encouraging them to request that their name be applied on the Tekno models, but when Fjeldgaard left the company in 1966 things went wrong for the Tekno sales organisation.  After he left, Berico and Andersson contacted the Swedish companies themselves.
Andersson was responsible, however, for negotiations with Disney about the Herbie model, and subsequently with Scania, who had issues with Volkswagen. Disney was totally impossible to deal with and Andersson was happy that they managed to sell the Herbie Volkswagen at all. He tried to get Disney and Scania to pay part of the cost, but it was unsuccessful. It was a bit easier negotiating with Volvo, who were prepared to pay for small proportion of the advertising.
Berico sold 7,300 units of the Herbie model in Sweden in the last months of 1969, but that is just a small fraction of the 4,900,000 Corgi sold of James Bond's Aston Martin from the film Goldfinger. Somewhat surprisingly, only 125 of the 870 Honest John and 120 of the 826 Ford Taunus were sold. That compares with 13,465 Saab 96s.
The End of the Berico – Tekno Relationship
Andersson had always felt that all had not gone as smoothly as it should have done with Tekno, and he was really not happy when Algrema took over Tekno on 1 June 1970. After the takeover shortfalls in deliveries and quality issues became even worse, though many vehicles continued to be delivered from Algrema-Tekno.
In June 1970 Berico entered an agreement with Kirk to sell their models under the name Model Products.  Kirk had previously made all the 700 and 900 series models for Tekno.
From 1970 to 1973 Berico was the Swedish agent for Tamiya, Majorette, and Heller. At the time Algrema-Tekno went bankrupt in 1972 the models they supplied generated a third of Berico's total revenue. With distribution of the three new brands they managed to keep sales above 5 million SEK in 1974.
In 1976 Tekno Holland was created when the Dutch company Vanmin bought Tekno. The models were marketed in Denmark by H Wittrock A/S in Bagsvaerd. This company stocked many of the same products as Berico, and there was good co-operation between the companies, but Tekno was never really a big player any more.  Their product range was greatly reduced and in 1980 all marketing of Tekno model vehicles by Berico came to an end.
From 1977 to 1993
In 1977 Berico moved to new premises on Höjdrodergatan.
In 1978 an agreement was made with Trudi.
In 1980 an agreement was made with Wiking plastic models which ended in 1987.
In 1982 Solido came back and turnover passed the 10 million SEK level.
In 1983 Berico signed up the Italian Lima and UK Britains brands. Their share capital increased to 500,000 SEK.
In 1986 20 million SEK in sales is accomplished.
In 1988 Berico signed three new ranges: Bluebird, SES and Grazioli.
In 1980 30 million SEK in sales was reached.
In 1990 Bluebird's product Polly-Pocket sells six million SEK worth in six months. Sales eventually reach 37 million!
Berico went bankrupt in 1993 and was bought by new owners.
Other Discussion
---
Prototype Tekno Holland truck for Berico
---
The model above is a sample of a Scania truck from Tekno Holland, where Andersson proposed to make a promotional truck with the Berico logo. It never materialised.
---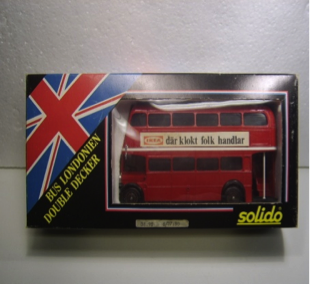 Prototype Solido bus for IKEA
---
Berico made this sample based on a Solido bus in an attempt to have it marketed by IKEA, who at the time had their advertisements on buses. It was offered to IKEA, but they did not want to contribute to the advertising costs, so it was also dropped.
Kjell Christensson added that Sweden was divided into six sales districts, where Stockholm was covered by Bengt Ringblom. Kjell dealt with southern Sweden. The salesmen had a large suitcase to take to the shops with samples of the model vehicles. The shops filled out an order form with the models they wanted to buy. Kjell made some of the promotional material himself by taking pictures of a lot of cars and collecting them in a folder. It was not possible to fit all the Tekno vehicles in the suitcase.
---
Salesman's suitcase and photos from the salesman's folder
---
At the end of the interview, I asked Ivan Andersson why he had not represented the other large Danish toy company, Lego, as well. He said he would have liked to work with them, and he had tried many times without success.
---
Postscript
It is with sadness that we have to report that Ivan Andersson died 29 June 2012 at 94 years of age.  We are greatly indebted to him and the other three gentlemen for this interview and for helping us to document the history of Berico and the relationship with Tekno.
More examples of Berico's sales material and letters can be seen at teknosamleren.dk
---
We welcome your comments and questions.  Please go to our Model Auto Review Facebook page.